HealthFitness
Meet Joey Bareng, HealthFitness Fitness Program Manager, Genentech
Published by HealthFitness on November 12th, 2018
A natural athlete growing up in Hawaii, Joey Bareng fell in love with human movement and sports. He earned a wrestling scholarship to San Francisco State University, where he received a degree in Kinesiology, with an emphasis on exercise science. He stayed on as an assistant wrestling coach at his Alma Mater and became a personal trainer at local gyms, eventually taking on management positions.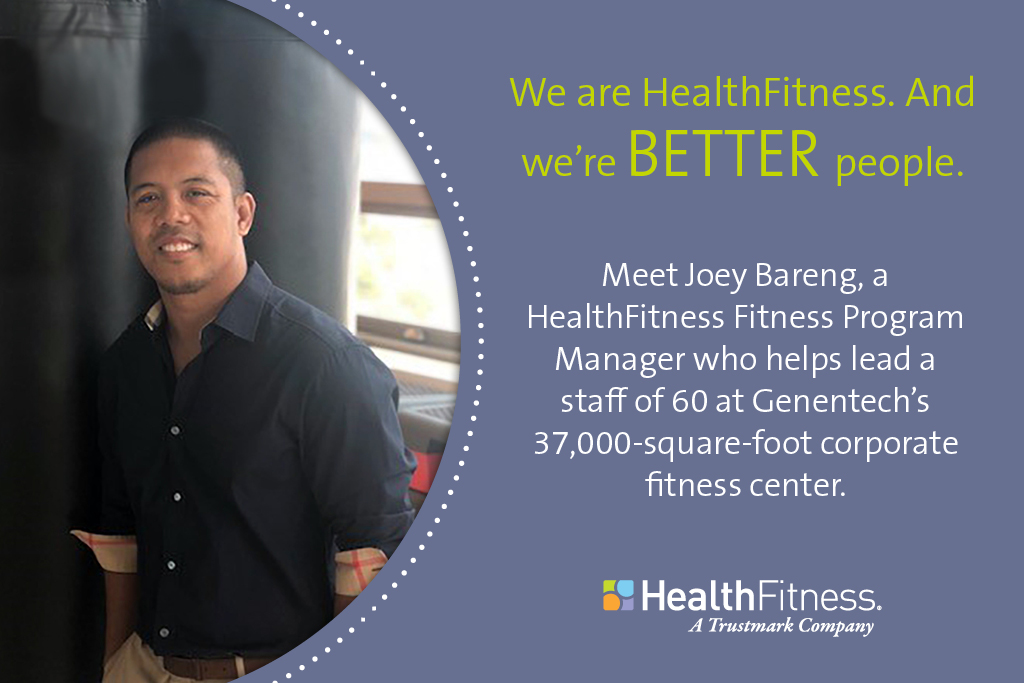 He joined HealthFitness as a health fitness specialist at the South San Francisco biotechnology technology company Genentech more than 10 years ago, and has worked as a program manager for the past six years.
"It's been an amazing experience; sometimes I don't even feel like I'm working," admits Bareng. "I love coming to work."
Remaining a step ahead
Bareng, along with General Manager Randy Fiel, lead a staff of 60 at Genentech's 37,000-square-foot corporate fitness center that comprises three floors. Many Genentech employees who use the fitness center have scientific backgrounds and understand the human body. And, living in the epicenter of the technology industry, they are in tune with the latest innovation, trends and product offerings.
Given this employee mindset, Bareng and his team need to be well-versed on the wellbeing industry. "It's so easy for people to go online or their social media page and learn about what's the new trend," he explains. "We really need to stay a step ahead."
To help ensure his team remain a knowledge resource and obtain key certifications, Bareng sends his trainers to continuing education classes and seminars, including the annual IDEA World Conference and IRSA, among others.
Bareng admiringly refers to the "fitness geeks" on his team who are constantly checking out the newest equipment, product or trend. "Having a team who is passionate about fitness even when they're away from work helps us all feed off each other," says Bareng. "It's this collective insight that enables us to keep growing our program. We try to think of out-of-the box scenarios and just do them."
As the oldest of five siblings and a coach by trade, Bareng has always gravitated to leadership roles. He makes an effort to have one-on-one meetings with as much of the staff as possible and ensures he is there to support them any way he can. "Being a guide, a mentor, is the most important thing I do every day," he explains.
While Bareng transitioned most of his clientele to colleagues when he moved to his current management role, he continues to train one woman regularly. He credits this relationship with providing perspective on Genentech and insight on what a participant might be experiencing. "You form these unique connections with people when you're in the fitness field," he explains. "It's very gratifying to know how you can impact peoples' lives."
From a box to a circle
Bareng is involved in almost every decision that impacts the fitness center, from the type of equipment placed to staff hires to dealing with the inevitable challenges that arise. "I love problem solving, games and puzzles," says Bareng. "When there's a challenge, I get excited. If there are no challenges, I worry that I'm going to get a little stagnant and almost go out looking for them!" he adds.
One specific challenge involved moving from the previous Genentech fitness center—a one-story, 25,000-square-foot building, to its current location, approximately 18 months ago. "The new building changed the dynamics of our staff, our flow; everything," says Bareng.
Although more spacious, Bareng viewed the three separate floors as daunting and was concerned how his team would stay visible to employees while remaining in communication with each other. He explains how, where the old building was shaped like a box, the new location is configured like a circle. Bareng created a flowchart with the training staff and front desk staff to ensure that each floor was appropriately covered each day.
And the utilization numbers speak for themselves. Approximately 11,000 Genentech employees are eligible to use the gym; among this population, around 9,000 are members, with 60 percent visiting the facility at least once a month. While pleased with these numbers Bareng and his colleagues are focused on driving them even higher.
For the love of the game
Admittedly competitive, Bareng, the father of an eight-year-old daughter and a five-year-old son, credits his own dad with helping him hone his strategic thinking skills through chess games, played together. After arriving in San Francisco from Hawaii to attend college, Bareng would stop by an area where men would sit and regularly play chess, challenging tourists to $5 matches. "They thought I was just a regular tourist and would quickly take my money," he recalls. "Imagine their surprise when I would beat them."
Besides chess, Bareng remains involved in wresting as a hobby, coaching the women's team at Menlo College in nearby Atherton, and regularly applies his vast experiences to his career. "The moves; the planning; the strategizing that you use in wrestling – it's all applicable to my work at Genentech," he explains. "When you're behind you have to make adjustments and when you're ahead you need to stay ahead. You always need to have a plan."
Bareng also practices the Brazilian martial art Jiu-Jitsu as a way to clear his mind and help him think. It also provides him with perspective. "I'm in this field because I love fitness; I love working out and I love sports," he says. "So, the way I see it, I have to continue participating so I can continue helping people."
Learn more
How can our people help your people be better?
Connect with us to learn more.