HealthFitness
Meet Dana Taylor, HealthFitness Program Manager, Eastman
Published by HealthFitness on January 29th, 2019
We're HealthFitness, and we're better people. We believe the best claim is the claim that doesn't happen, and through our injury prevention and treatment services, we help people move better, feel better and improve their health and wellbeing.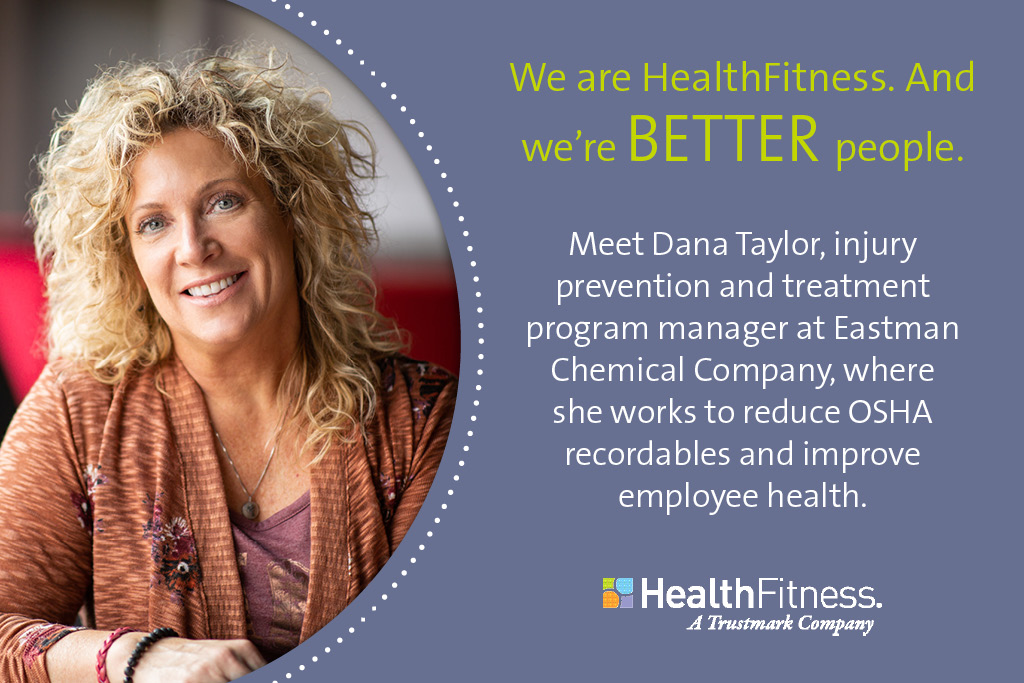 Meet Dana Taylor, program manager
"I have a need to help others," Dana Taylor says. "Compassion is a driving force in who I am, and my role allows me to truly make a difference in people's lives," Taylor explains. Taylor is a program manager for our injury prevention and treatment program at Eastman Chemical Company, a Fortune 500 company headquartered in Kingsport, Tenn.
With an undergrad in education and a master's in exercise physiology, Taylor started her career as a K-12 physical education teacher, followed by 12 years as a physical therapy technician and exercise physiologist. Now, with a 21 year tenure with HealthFitness at Eastman, "My role is the perfect merger of my love for helping people and my love of education," Taylor says.
Team effort
As a globally diverse company, Eastman serves customers in more than 100 countries and employs approximately 14,500 people around the world. Taylor and seven coworkers support injury prevention and treatment programming at three of 30+ Eastman locations, offering:
Work conditioning to prepare employees for the demands of the job

Program participation: 2018: 193 with over 6,000 job-specific workouts created

Post offer employment/physical abilities testing to match employees' abilities to job demands

Program participation: 2017: 154; 2018: 331; 115% increase

Movement pattern testing

Program participation: 2017: 257 (pilot year; headquarters only); 2018: 48 (four domestic sites)

Preventative exercise programs in partnership (pre- and mid-shift with both instructor- and peer-led classes multiple times daily)

Number of classes: 2018: 246 led by instructors; 1,400 led by peers

Awareness and education, including lunch and learns and What's What meet ups
Energy breaks for various groups and departments
Special events within the community
Solving for unique challenges
Eastman has a zero-incident mindset culture and through our injury prevention and treatment services, Taylor and team work to reduce the overall Occupational Safety and Health Administration (OSHA) recordable injuries and improve the wellbeing of all employees. "We work with mostly manufacturing employees, often remotely, who have physically demanding jobs in challenging environments," Taylor says. "Our goal is to facilitate training that accurately reflects the integrity of our programming and supports what the particular needs are, as well as the goals for the company."
An example of a challenging environment is the "stack testing" that Taylor and team support. Employees applying for a position within one of Eastman's manufacturing groups must complete a physical abilities test administered by Taylor and team. One test in particular includes climbing 133 rungs (roughly a 10 story climb with all safety gear in place).
When another department noticed an increase in injuries of new employees during their first year of employment, Taylor and team suggested Movement Efficiency Testing (MET) and levied our partnership with Fusionetics® to process the test and corrective exercise plans.
The MET helps identify muscular deficits and imbalances, and the corrective exercise plan helps an employee move smarter, more efficient and healthier, reducing musculoskeletal injuries. "We had more than 70 employees move through the process, which includes retesting and plan modifications, and the Fusionetics solution helped us work efficiently with such a large group."
Communicating programming and services can also be challenging, especially in a manufacturing environment. "We've worked with our client to develop creative strategies and partnerships to help us reach employees," Taylor says. "Our Key Champions (divisional wellness representatives) are one resource we draw on often to help us communicate our programs and services."
Other partnerships include working with the on-site Human Resources, Creative Services and Corporate Communications teams to design, review and distribute fliers to strategic locations throughout Eastman's Kingsport headquarters campus and primary manufacturing site. Taylor and team have also created a newsletter that is published twice a year and posted in bathroom stalls throughout the 600 buildings that make up Eastman's Kingsport site, partnering with the Facilities team for distribution.
Making a difference
"Helping people stay safe, and, when needed, recover from an injury, is very rewarding," Taylor says. "Surprising employees with our level of service and showing them that we're here for them and that we truly want to help them is equally rewarding." When asked what a good day looks like for her, Taylor explained how she thrives on showcasing value to employees, the company and her client. "If I've done that, then I've had a good day."
How can our people help your people be better?
Connect with us to learn more.
Fusionetics is a registered trademark of Fustionetics, LLC.