HealthFitness
Meet Heather Eubank, Program Manager, Health Management
Published by HealthFitness on April 17th, 2019
We are HealthFitness, and we're "better" people. We believe that achieving better health is a unique lifelong journey that is best achieved when people have help along the way.

Help from people like Heather Eubank, a HealthFitness Program Manager who serves more than 8,000 employees at a leading global information services provider company with over 70 locations throughout the United States. The company offers a wellbeing program as component of their overall Total Rewards program.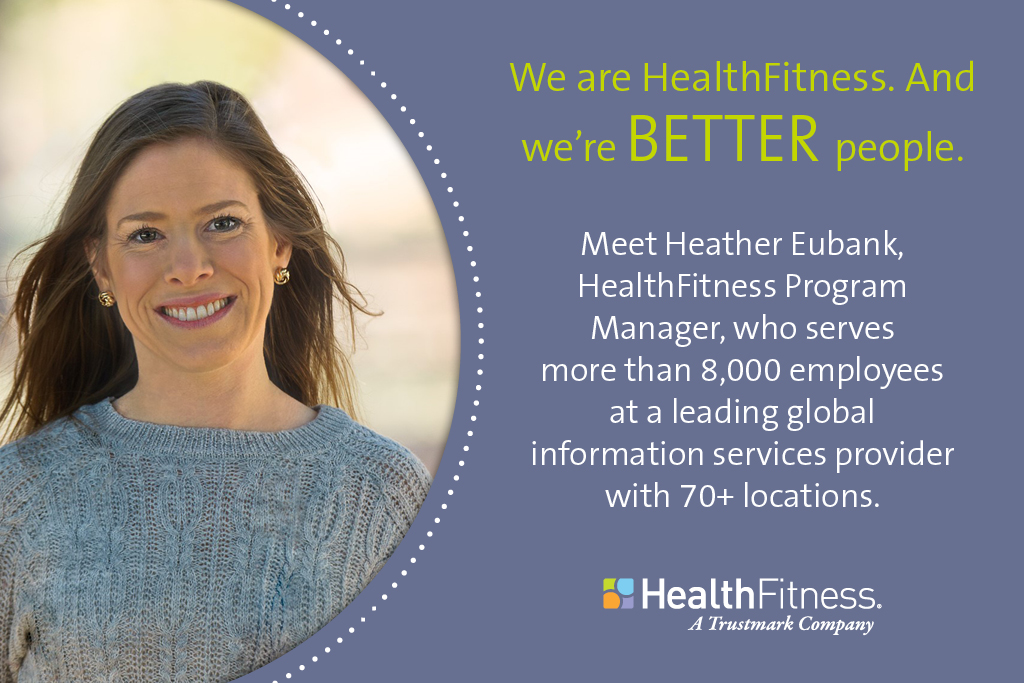 Eubank says she embraces the challenge of meeting the wellness needs of this dispersed, results-driven employee population.

One billion steps
An important part of Eubank's job is to support one workforce coming together to be healthier. This can be a challenging feat as the company is made up of many different divisions and business units.

In addition to having employees focus on individual steps during an on-line step challenge, Eubank challenged them to reach a goal of 1 billion steps together as a company. If this goal was met, the company would donate $5,000 to the American Red Cross. "This added incentive was timely, with employees wanting to find ways to help with some recent, devastating natural disasters that were occurring. They enjoyed reaching this ambitious goal together," she says.

Eubank also helped promote a "one workforce" by running a "Healthy Selfie-50 State Challenge" campaign. Employees submitted photos of themselves doing healthy activities— running a race, eating fruits and vegetables, going for a walk—from all 50 states. It was a simple and fun way to get employees to connect across the U.S., breaking down the silos created by different business units and locations, and celebrate their healthy behaviors.

Eyes, ears and boots on the ground
The employees are invested in the wellness program. Eubank credits her 80+ member wellness champion network for increasing participation and engagement in the company's wellness program.

Wellness champions are company employees who, in addition to their day jobs, help build awareness in the company's wellness programs. "Wellness champions support and reinforce every aspect of the wellbeing program and look for ways to create a culture of wellbeing within their office. They can also look for local wellness programming to meet the needs of their location."

Eubank leads and depends on the 80 wellness champions to amplify the wellness message, whether that is coordinating weekly walks, offering a meditation class, providing healthy office snack options, and much more. Eubank serves as the wellness champion for all of the company's 1,500 remote employees, working out of a home office. "The company is a collaborative organization and the wellness champions serve as my eyes, ears and boots on the ground to understand how the program is being received and what employees need to be healthier," she says.

It's important for Eubank to support her team of champions. "I am a high-touch program manager," she says. "In addition to our monthly meetings, wellness champions can contact me anytime to ask questions about the program, give feedback, share ideas, and get resources to help with local programming. It's important for me to provide the tools and support that will empower them to inspire others."

Real results
With improvements seen in many areas of an annual, voluntary health assessment employees are encouraged to take, the work of Eubank and the wellness champions is making an impact.

From groups of employees coming together to participate in a local 5K, to wellbeing lunch and learns and health fairs, there were over 120 wellbeing events/program across the company in 2018.

In addition to results, Eubank appreciates the anecdotal feedback she receives from the wellness champions and employees. "They tell me that the wellness program has brought their offices to life," she says. "Now, instead of shuffling in and out of the office, employees are talking and laughing as they get up from their desks to take a walk. They are excited for the next challenge to start. For me, that is success."

Valuable partnership
Eubank is part of the Benefits team so she has the opportunity to partner with the other health and wellbeing vendors to promote their services. "It's hard for employers to manage all of these different vendors," she says. "I support the benefits team by serving as a key partner in collaborating with these vendors and promoting their services."

Making a difference
With a bachelor's degree in Health Studies and a focus in Community Health Promotion and Education, Eubank is grateful that she started with HealthFitness as an intern and spent her first seven years with fitness management before moving into health management.

"My background in health education and promotion allowed me to make an impact at all of my clients, because my fitness clients were integrated with the benefits and health and wellness team," she says.

Eubank loves the variety she sees in her day and finding creative and unique ways to engage participants. She says, "A good day for me is wearing many hats and connecting with participants, knowing that what we are doing is make a difference."

Learn more
How can our people help your people be better? Connect with us to learn more.