Voluntary Benefits
Trustmark & the WA Cares Fund Tax
What to know about the WA Cares Fund payroll tax and why you should keep your policy
You've made a wise decision to protect your family and your paycheck, and we're here to help.
Below are a few things to know if you live in the State of Washington and have a Trustmark Universal Life policy with long-term care benefits.

Looking for information about long-term care legislation in other states? Start here.
June 2023 Update
The WA Cares Fund payroll tax takes effect on July 1, 2023. For Trustmark Universal Life with Long-term Care policyholders, you've had the opportunity to opt out of this new Washington state payroll tax for the WA Cares Fund Program.
To prevent tax deductions from your paycheck after the July 1st effective date, you needed to complete two steps:
Request an opt-out exemption from the state prior to December 31, 2022; and
Submit your exemption approval letter to your employer
If you have completed these steps, no action should be needed on your part and you will not have to make contributions to this fund.
However, if you still need to submit your exemption approval letter to your employer, you can obtain the necessary documentation using the
SecureAccess Washington
website.
As the tax takes effect, it is a good idea to:
Check your paycheck to verify no taxes were taken for the WA Cares Fund
If taxes were taken in error, please confirm your exemption with your employer
If you've misplaced your exemption letter and need to provide it to your employer, visit the SecureAccess Washington website
Log into the Trustmark Voluntary Benefits Portal to familiarize yourself with your coverage

Should proof of coverage be required in the future, you can easily access a copy of your policy on the portal at any time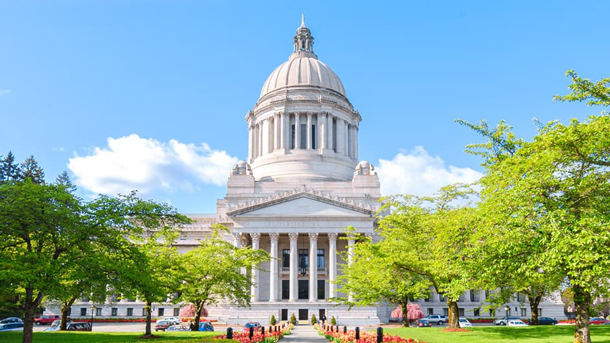 November 2022 Update
The WA Cares Fund is passed into law, but several items remain up for discussion regarding the implementation and execution of the tax. Below are the latest developments and items under consideration:
There is ongoing discussion of recertification requirements for those who opt out of the WA Cares Fund tax. In other words, residents who purchased long-term care protection (such as a Trustmark Universal Life with long-term care policy) may be required to demonstrate that their coverage remains in effect on an ongoing basis. No official decision has been made on whether this will be required or what the recertification process may look like. The state legislature will likely consider amendments to the law in Q1 2023 to address recertification requirements.
Effective October 29, 2022, spouses and domestic partners of active-duty service members may apply for a conditional exemption from the Washington Cares program. Workers with a nonimmigrant visa for temporary work may also be eligible to apply for a conditional exemption.
Earlier this year, the implementation date for the tax was moved to July 1, 2023
Earlier this year, exemption opportunities were granted for specific groups (i.e. for disabled veterans and out-of-state employees)
The purchase deadline for qualifying coverage for the exemption still remains November 1, 2021. Policyholders who haven't already, may apply for exemption through December 31, 2022 on the WA Cares Fund website.
January 2022 Update
The Legislature has passed two amendments to the WA Cares Act. These amendments have done two things:
Changed the implementation date of the tax to July 1, 2023
Included exemption opportunities for specific groups (i.e. for disabled veterans and out of state employees)
The delay in implementation is intended to allow lawmakers additional time to improve the law and address certain issues, not to discontinue the law altogether. If you intend to be exempt from the tax, it is important not to cancel your policy.
Here's why:
The November 1, 2021 deadline to obtain coverage has not changed. If you cancel your Trustmark policy now, you may no longer have credible coverage for the exemption if proof of coverage is required in the future.
One of the legislative changes being discussed is an ongoing requirement to prove active coverage in order to maintain exemption.
Trustmark coverage is only available during a special enrollment and you may not have access to it again. You cannot reinstate cancelled coverage at any point.
Your Trustmark protection offers both life insurance and long-term care benefits at a rate that won't increase due to your age or salary.1 You can also keep your coverage even if you change jobs, retire or move out of state.
If you have not yet applied for an exemption, you can
visit this page at the State's WA Cares site
to apply. (You will need a
SecureAccess WA
account.)
Remember that you can access your policy information and file claims 24/7 on the
Trustmark Voluntary Benefits Portal.
For more information about the WA Cares Fund Program, visit the WA Cares site.
December 2021 Update
If you live in the State of Washington and are looking to purchase Universal Life with long-term care coverage or, if you're already a policyholder, please note the following:
All enrollments that meet the date requirement for long-term care coverage are closed and we are unable to process any new applications to be applied towards the WA State Exemption.
If you have applied for coverage, but haven't received a policy yet, please note that your coverage is effective as of the date of your application due to interim coverage (if your application for coverage is approved).
Your policy will qualify you to apply for the exemption once your policy has been issued, and you have until December 2022 to apply for your exemption. This includes spousal policies which may still be in underwriting because they take longer to complete.
For information on applying for exemption please visit the WA Cares Fund website.
Please make sure you keep your policy in a safe place. The state has indicated that you may need your policy in the future. In addition, current or future employers may also require proof of your policy at any time. Once issued, your policy information may be found on the
Trustmark portal
.
Trustmark® is a registered trademark of Trustmark Insurance Company. Products underwritten by Trustmark Insurance Company. This content is based on Trustmark's interpretation of the new legislation and is subject to the State's application of the rule and approval of each application for exemption. The information provided here should not be construed as legal, tax, investment, financial or other advice. Please consult with specialized experts for detailed advice for your situation.
1 Please refer to your policy and personalized Life Insurance Illustration (provided to you with your policy) for a detailed explanation regarding factors that can affect the minimum premiums payable under your flexible premium policy.