Trustmark Recognized by Chicago Tribune as a 2020 Top Workplace
Published by Trustmark on October 30th, 2020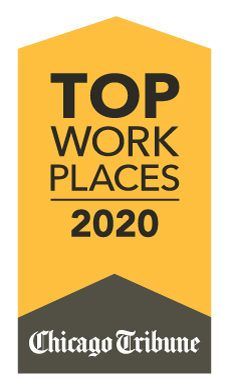 Trustmark associates have spoken, and they like what they are seeing!
Trustmark is pleased to be recognized by the Chicago Tribune as a 2020 Top Workplace. This recognition is a result of a survey that Chicago-area associates participated in; the responses were anonymous. The survey measured 15 drivers of engaged culture such as connection, alignment and execution.
"A big part of what makes this so special is that this was 100 percent employee-driven," said Kevin Slawin, Trustmark's CEO and President. "We have a caring culture, and that's a testament to our associates, who are what makes Trustmark stand out."
Trustmark associates' responses to the survey indicate a highly engaged workforce. Trustmark associates noted Trustmark's excellent collaboration across departments and felt appreciated and well-informed about important decisions.
Additionally, associates believe their managers care about their concerns. For example, Trustmark moved swiftly in the early days of the COVID-19 Pandemic to ensure the vast majority of associates were able to work from home and succeed in a remote environment. Those who have remained at office locations have diligently followed safety protocols.
"We acted quickly and with purpose to keep our associates safe while delivering the service our members and clients depend on," Slawin said. "This shared commitment, to our associates and our clients, speaks to the best of what we have here at Trustmark."
Associates also expressed confidence in the direction of the company. "Despite the pandemic, we continue to advance our strategies," Slawin said. Recently, Trustmark has made significant investments in digital and data analytics capabilities to further enhance the customer experience. "Associates are motivated by our purpose," Slawin said. "They know they're making a difference for our members and clients and the brokers we work with."
Trustmark has planned a number of well-received engagement activities to give colleagues the chance to interact while not physically being in the same place. From its celebration of nurses and first responders to virtual fitness classes and photo and food contests, Trustmark's sense of community remains strong.
"Trustmark associates often say the people are the reason why they build their careers here," said Kristin Zelkowitz, SVP and Chief Human Resources officer. "While 2020 has been challenging, our close and tight-knit culture has proved durable and resilient."