Damon Sgrignoli Joins HealthFitness as Chief Sales Officer
Published by HealthFitness on July 20th, 2020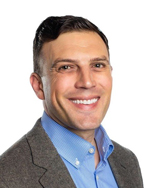 MINNEAPOLIS – HealthFitness is pleased to announce the addition of Damon Sgrignoli as chief sales officer. In his role, Sgrignoli, a 20-year health care leader, will lead the HealthFitness sales team and collaborate with colleagues throughout the organization to develop personalized, onsite, digital, and virtual solutions for its clients.
"I'm joining at what I see as a time of transformation for HealthFitness and the industry as a whole," said Sgrignoli. "Now more than ever it's crucial that we get creative and find new ways to build communities that engage people in their health. At HealthFitness we have a unique toolkit that enables us to be responsive in putting forth comprehensive solutions."

Prior to joining HealthFitness, Sgrignoli served in a variety of business development and marketing roles in companies ranging from Fortune 500s to startups, including Pfizer, Marsh/Mercer, Optum, and Omada Health. Most recently, he was a sales leader at Grand Rounds, a San-Francisco-based health navigator, and founded his own growth consultancy that advised digital health care companies and VC groups on ways to rapidly scale.

"Unlike the confusing, fragmented experience too common in today's health care system, I look forward to providing participants an authentic, catered wellbeing journey," said Sgrignoli. "It's clear we need to meet people where they need us most. And we're working daily to solve complex challenges and elevate every interaction people have with HealthFitness whether they're at work or home."

"The addition of Damon is another way we're continuing to grow, thrive, and adapt in how we're delivering our solutions for all our clients, whether that's with fitness and recreation management, wellness, or injury prevention and treatment," said HealthFitness President Sean McManamy. "I believe Damon's experience, strategic mindset, and energy are key assets for HealthFitness as we transform the wellbeing experience."

About HealthFitness
HealthFitness, a Trustmark company, delivers a complete and personalized wellbeing solution that is designed to make people healthier and includes the best of fitness and recreation management, wellness, and injury prevention and treatment. Parent company Trustmark provides a full spectrum of employee benefits to improve wellbeing through better health and greater financial security. For more information on HealthFitness, visit www.healthfitness.com.
Media Contact
Andy Jacobson
ajacobson@trustmarkbenefits.com
952.897.5257