HealthFitness
Meet Vicky Herana-Rector, Program Manager, Lockheed Martin
Published by HealthFitness on December 10th, 2018
Vicky Herana-Rector's supervisor uses succinct rhyming verse to describe her.
"Tiny, but mighty," said HealthFitness' Laura Ochoa, director, program management and engagement – West.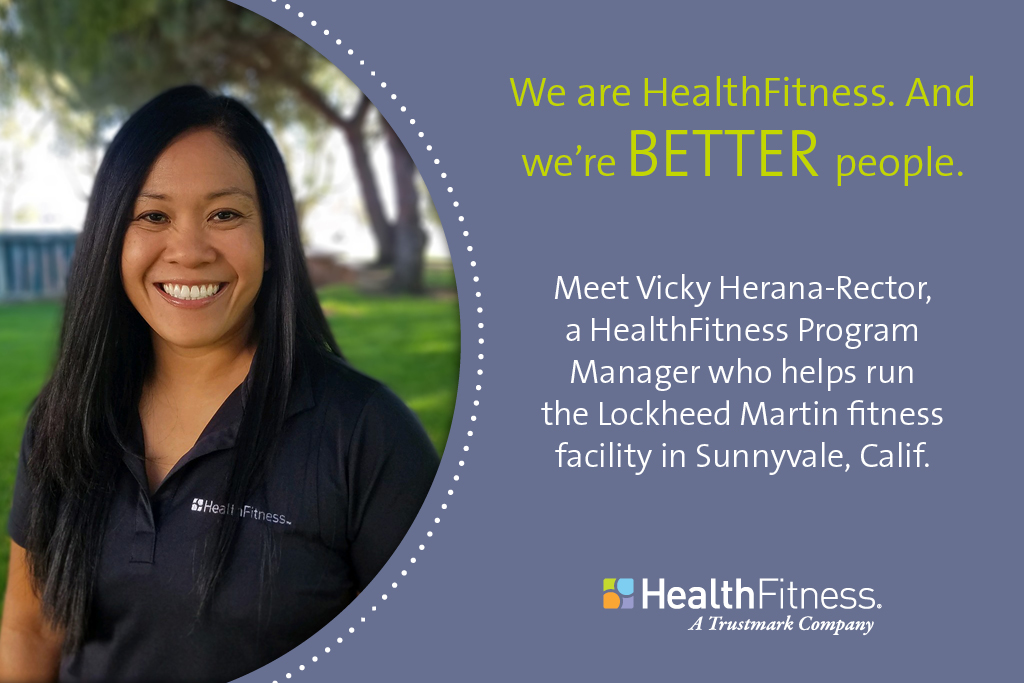 At one inch shy of 5-feet and with a small build, many might underestimate Herana-Rector at first glance. That impression would change quickly, though, if you see her working out.
"I really enjoy throwing weight around," she said.
She can bench press more than 115 percent of her weight. "I really enjoy trying to lift as much as my body will allow," she said. "I try to preach it and live it."
"Nothing like being a fitness professional"
Herana-Rector applies that same positive, can-do approach and attitude (that includes a willingness to do much proverbial heavy lifting) to her work helping run the Lockheed Martin fitness facility in Sunnyvale, Calif. This applies both to the way she managers her team and to the way she interacts with members.
"Vicky builds strong connections with her staff, gives them the tools to success, empowers them to grow, and makes being a part of her team fun," Ochoa said. "She works tirelessly to create an amazing member experience. She possesses a great balance of being personable, professional and knowledgeable, and also really knows how to motivate her members."
Herana-Rector said she lives for the "A-ha!" moments when she makes an impact with a client.
"There's nothing like being a fitness professional," she said. "You can help someone improve their health and wellbeing. It's hard to make an impact like that in other jobs."
Over the years, Herana-Rector can point to numerous client success stories. Once, a client was so appreciative he sent a Thank You PowerPoint collage.
"It was super-impressive," she said. "You never (forget) those emails where people say that you've changed my life."
Each year, she prioritizes making time to promote and support the client's annual fun run.
"Even when budgets dwindle Vicky works hard for donations and encourages the population to participate," Ochoa said. "They just raised over $3,000 for charity in this year's event and participation was as strong as ever."
California dreaming
Herana-Rector was born in the Philippines, and her family moved to California when she was 8-years-old. She has never left the state to live anywhere else, and why would she?
"I love living in California and can't get enough of the sunshine," she said. "My husband and I are very active. We're able to go hiking in the mountains in three hours and be at the ski slopes in two hours."
No snooze button needed
Gym members arrive by the crack of dawn. Actually, in many cases before it.
"We open the gym at 5 in the morning and people are always asking for it to open at 4," she said with a smile.
One of Herana-Rector's favorite parts of the job is leading an early-morning fitness class that helps members energize for their day.
"They may be a bit sleepy or don't want to be there in the beginning," she said. "But after a little bit of movement, the endorphins kick in, the sweat starts glistening and there's big smiles on their faces."
Learn more
How can our people help your people be better?
Connect with us to learn more.