Trustmark Hires Matt Cruth as Regional Sales Director, Plains Region
Published by Trustmark on March 20th, 2018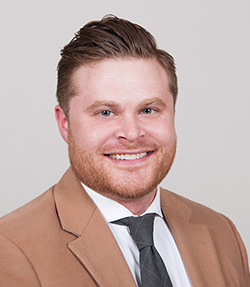 LAKE FOREST, Ill. – Trustmark Voluntary Benefit Solutions, a long-standing, national voluntary benefits carrier, has hired Matt Cruth as regional sales director, Plains region. The announcement was made by Dan Schmid, regional sales vice president, west region.
"Attracting top sales talent is critical to our organization and Matt is well-respected in the market," said Schmid. "He has a wealth of experience across the board when it comes to benefits, and will help us connect and develop deeper partnerships in the Plains region by the value he brings to the table."
Cruth, who brings more than 12 years of sales experience to the team—started out at UNUM in life and health sales, moving to group and worksite sales with Mutual of Omaha and OneAmerica.
"The first thing I noticed about Trustmark was their culture, and I immediately knew this was a great fit for me. I'm proud to be a part of this team, and the value and commitment they show to their partner relationships is second to none," said Cruth. "The technology Trustmark is able to provide and the communication strategies offered will undoubtedly be welcomed by my broker partners."
Cruth will lead the Plains sales territory, and will work with clients to help develop employee enrollment strategies that can enhance client processes, benefit packages, and overall employee participation.
Interested brokers and enrollment firms can reach Matt at 913-609-8147 or
matthew.cruth@trustmarksolutions.com
.
About Trustmark
Trustmark has more than a century of experience in voluntary benefits. It provides the resources that employers need to enhance their benefit plans, and that employees need to make knowledgeable decisions and gain vital financial protection. Trustmark is known for its service and billing capabilities and takes pride in finding solutions to match employers' needs. Trustmark Insurance Company is a subsidiary of Trustmark Mutual Holding Company, which is rated A- (Excellent) for insurer financial strength by A.M. Best and has over $2 billion in assets and more than 2 million covered lives or plan participants.
Media Contact:
Andy Jacobson
Director, Strategic Communications
952.897.5257
andy.jacobson@hfit.com