Voluntary Benefits
White Paper: A complete guide to today's care crisis
The costs of care are increasing.
Today, the median cost of a nursing home is more than $9,000 per month.
1
Pair that with a population whose need for long-term care is growing while their options to fund care are limited – the result? An unprecedented challenge for employers and employees.
Whether you're already familiar with the long-term care crisis or hearing about it for the first time, we've compiled an analysis of the situation to help prepare brokers and employers:
Discover the root causes of the care crisis
Examine the challenges faced by caregivers and care recipients
See how long-term care impacts employees and their employers
Learn what solutions work (and don't work) to address care challenges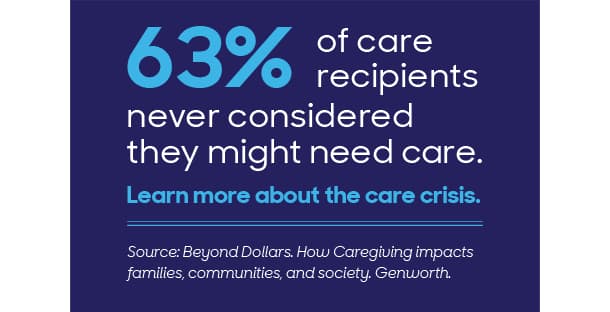 Help protect employers and employees – fill out the form below to download the white paper and get your complete guide to the care crisis:
1Genworth Cost of Care Survey, 2021.