Voluntary Benefits
How to navigate emerging trends in long-term care
Published by Adam Bezman on February 19th, 2020
The need for long-term care (LTC) is growing, but employers and employees are still catching up to the multiple ways this need impacts them. It can be difficult to communicate the need for long-term care protection when employers don't understand how it can benefit their company and employees don't understand the need. For insight on the direction of LTC, here are several trends that demonstrate challenges in the current long-term care market and how to communicate a solution for long-term care effectively.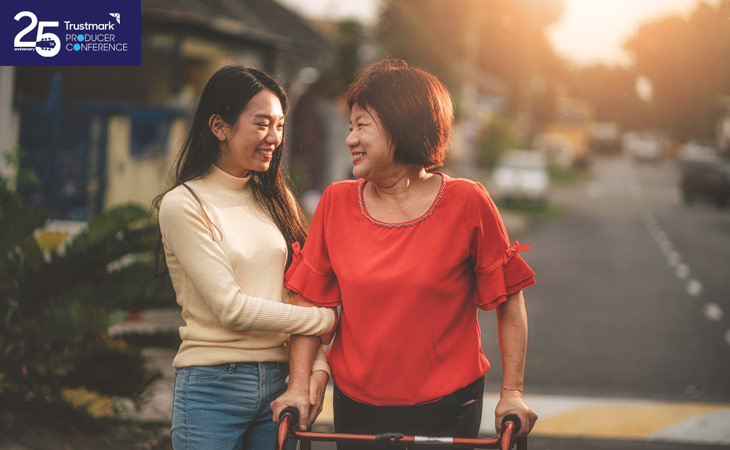 Trends:
The need for LTC is growing
70 percent of people over 65 will require long-term care at some point and as the number of care recipients increases, we'll need people and resources to provide that care.
1
This is where the challenge comes in – by 2030, the population of people over the age of 65 will exceed the population of people 18 and under for the first time in history.
2
With an aging population, long-term care is quickly becoming a necessity for our society. However, it's important to remember that long-term care isn't just for the elderly. The need for long-term care is growing across multiple age groups; as 43 percent of LTC recipients are between the ages of 18 and 64, often due to accidents.
1
Caregiving is taking a toll on employees and employers
Caregivers are often family members, not industry professionals. The average caregiver is 47, married and 56 percent of them are likely have children under 18.
3
This means that there are employees balancing their career with parenting plus caregiving responsibilities. It comes as no surprise then that 70 percent of caregivers missed time from work while 32 percent quit their job and 9 percent lost their job due to their caregiving responsibilities.
2, 3
Clearly, employers are being impacted by these trends as well. Caregiving employees that keep working burn out quickly and those with higher titles at a company are actually the most likely to leave.
6
The effects of long-term care access trickle down into our labor market, making resources to cope with LTC essential for a high-performing workforce.
Communication:
At Trustmark, we offer life insurance products that combine life insurance benefits with options for long-term care protection. This helps us control costs and provide a tangible benefit that policyholders know they will use even if they struggle to understand the need for long-term care. When communicating this type of product, there are a couple ways you can help deliver the LTC protection employees need.
Start the LTC conversation with life insurance
Often, people are in denial when it comes to their own potential need for long-term care or they think they have more time. Even for those who do think LTC is important, planning for it is easy to put off. Of people who did consider the need for long-term care, 75 percent still didn't take action to plan for it.
3
Try starting the conversation with life insurance coverage to address a more immediate need that resonates with consumers. Highlighting the 2-for-1 value of combining universal life and long-term care appeals to consumers because they know there will be at least one benefit paid on the policy. However, messaging should depend on the stage of life and age of your audience. In the event that the majority of employees are over 50 years old or if they've experienced a friend or relative with an LTC need, it may be more effective to lead the conversation with long-term care.
4
Consider implementing one-on-one enrollments to deliver targeted messaging to various audiences.
Responsibility and affordability are the most compelling messages
Research shows that the most compelling message surrounding life insurance is responsibility, especially for men. Fulfilling their responsibility to take care of loved ones even if they're not around is a big motivator for purchasing life insurance. For women, affordability and locking in a lower rate is the most compelling message and influences their decision to purchase life insurance; it can be useful to demonstrate how a universal life insurance policy is an affordable way to get lifetime coverage for both life insurance and long-term care.
4
For re-enrollments, 64 percent of policyholders are more likely to keep their policy after considering the "responsibility" message.
4
Typically, people don't suddenly decide to stop being responsible for their family. They may be debating whether to keep their policy because they don't see the benefits of life insurance on an everyday basis. It's helpful to remind them of their responsibility to their family and the long-term care benefits that are included.
There is no doubt that affordable long-term care is a growing need in our society, but communicating that need with customers can be a challenge. To overcome these barriers, we've found it's helpful to package life and long-term care coverage and highlight the 2-for-1 value of such a product. To drive home the need for LTC, focusing the message on fulfilling an employees' responsibility to their family at an affordable rate can help them feel confident in their decision to protect themselves and their loved ones.
1
AARP.
Family Caregiving and Out-of-Pocket Costs.
2016.
2
The Caring Company. Harvard Business School.
How employers can help employees manage their caregiving responsibilities- while reducing costs and increasing productivity.
2018.
3
Genworth.
Beyond Dollars. How caregiving impacts families, communities and society.
2018
4
Trustmark and Customer Benefits Analytics, "Enrollment and Retention Messages for Universal Life Insurance." 2019.​