VOLUNTARY BENEFITS
Your voluntary revenue roadmap: Inside Trustmark's products
Catch the webinars on demand
If you missed the live version of our webinar series,
Your voluntary revenue roadmap: Inside Trustmark's products
, don't worry - you can watch all the sessions on demand now!
Want your voluntary benefit offerings to drive revenue (and lots of it)? Trustmark has your voluntary revenue roadmap. Our webinar series gives you a deep dive into Trustmark's products and a proven formula for success.
Watch Now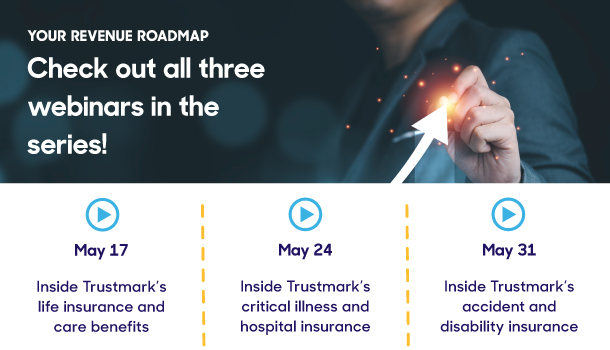 You'll get the insights you need to grow voluntary revenue including:
Market trends driving the need for voluntary benefits
Matching employers with the right voluntary benefits
Engaging employers in meaningful voluntary conversations
Modern, differentiating features on Trustmark products
Positioning Trustmark products in the market
The road to voluntary revenue begins here, enter your information to get started: