Voluntary Benefits
Trustmark Accident Insurance
Coverage for when life takes a tumble
Accidents happen. And with insurance deductibles going up, sudden expenses like medical costs from an accident can be hard to handle.

Trustmark Accident insurance pays you cash directly for treatment for covered accidents, to use however you choose.

Accident insurance lets you worry less about your bills, so you can focus on recovering.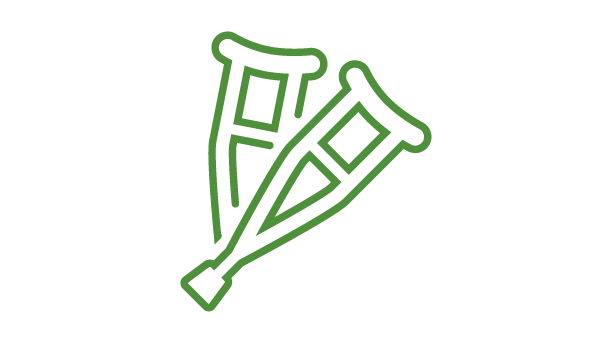 Taking the "Ouch!" out of accidents
Accident insurance is pretty simple. If you have an accident, and you suffer certain injuries or receive specified medical treatments, you're eligible for a payment. (Your policy lists benefits to let you know exactly what's covered.)

Even if your medical insurance covers any or all of your bills – you still get the same amount. We pay the money directly to you, and it's yours to use however you want.
Eric's story
Below is a story we created about Eric. He plays a dad who will demonstrate how Trustmark Accident can work.
Eric and his daughter got more than they bargained for on a summer bike trip. Watch their story to see how a family like yours could benefit from the affordable protection provided by Trustmark Accident.
Frequently Asked Questions
How does Accident coverage affect my health insurance?
It works in addition to your health insurance! Trustmark pays you directly, so you'll get your full benefit even if your medical insurance pays the entire cost of your care.

Does Accident cover accidents that occur during the workday/at work?
Accident insurance isn't worker's compensation, but some employers offer our coverage in addition to their worker's compensation program.

Many employers offer off-the-job ("non-occupational") coverage, which covers accidents outside of work, as well as accidents that happen at your work location but that aren't caused by the actual duties of your job. Other workplaces offer 24-hour coverage, which covers accidents even if they occur at your workplace. Ask your benefits representative or an enroller to find out which plan you're being offered.

How long will it take Trustmark to handle my claim?
We will process your claim within two days of receiving the documentation we need.

What can I spend my benefits on?
Anything! We pay you directly, so you can use the money for anything you want.
This is an accident only policy with limited benefits and does not pay benefits for diseases, sickness, or for loss from sickness. This is not a workers' compensation policy or a substitute for medical expense insurance, major medical insurance or a health benefit plan alternative. It is also not a Medicare Supplement policy. Benefits, definitions, exclusions, form numbers and limitations may vary by state. For costs and coverage detail, including exclusions, limitations and terms, see your agent or write the company.
Trustmark Voluntary Benefit Solutions, Inc. is a subsidiary of Trustmark Mutual Holding Company. Insurance products are underwritten by Trustmark Insurance Company or, for life insurance products in NY, Trustmark Life Insurance Company of New York.