Benefits Beyond Benefits
Trustmark pairs a caring, client-first approach with the capabilities, services and products usually reserved for larger employers to help companies of all sizes solve their benefit challenges.
History
Trustmark is a different kind of benefits company. One that listens first, then works to help you keep your promise to employees. In fact, we've been helping companies do just that for more than 100 years.
Much has changed over that time. What hasn't is our responsibility to support employers and employees in times of crisis, to give them peace of mind so they can enjoy times of ease, and help them thrive together. Now and into the future.
That's why our leadership team has helped grow Trustmark into a new kind of employee benefits company – a modern mutual organization that supports the future success of companies and their employees by continually evolving our benefits portfolio.
As a mutual organization, we serve you, not Wall Street.
We look forward and plan for the future – not just tomorrow or the next quarter. As a modern company, we help you stay ahead of industry trends by integrating technology and new approaches into our products, while also strengthening them with long-term perspective, and deep expertise in our areas of benefit specialty. We help you provide smarter benefits that attract new employees, keep existing ones, improve productivity and lower costs. And we do it while offering benefit options and capabilities usually reserved for large employers combined with the personal service you'd expect from a midsize firm.
The result is a flexible, personalized approach – a coherent benefit strategy that fits your company culture, protects and improves the wellbeing of employees, advances your employment brand and achieves business goals.
Sound like a team you want to join? Discover career opportunities at Trustmark.
Trustmark Earns Rave Workplace Reviews
For the third consecutive year, Trustmark was selected as a Top Workplace by the Chicago Tribune!
The award is based exclusively on Trustmark associate responses to an anonymous survey. The survey measures 15 key drivers of engaged cultures that are critical to the success of an organization. This
blog post
illustrates why Trustmark is known for its caring culture and an approach that helps associates, members, clients and businesses "Live Their Beyond," and thrive.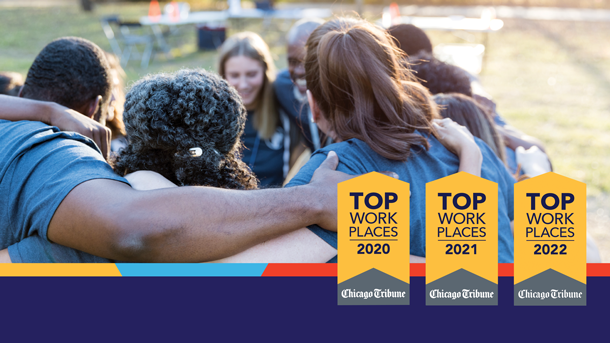 Financial Information

More than 100 years in business

$2.6 billion in assets*

Rated A- (Excellent), outlook Positive by A.M. Best**

2,575 full and regular part-time associates

2+ million members, policyholders or plan participants

Mission: Protect and improve individuals' health and overall wellbeing
*
Represents the combined assets of Trustmark Mutual Holding Company as of December 31, 2021.
**
A.M. Best Financial Strength Ratings and Outlook apply to Trustmark Insurance Company, Trustmark Life Insurance Company and Trustmark Life Insurance Company of New York.