HealthFitness
Meet Stephanie Smith, Director of Recreation, MIT Recreation
Published by HealthFitness on March 21st, 2019
Not surprisingly, given her location at the Massachusetts Institute of Technology (MIT) in Cambridge, Stephanie Smith faces staggering numbers on a daily basis.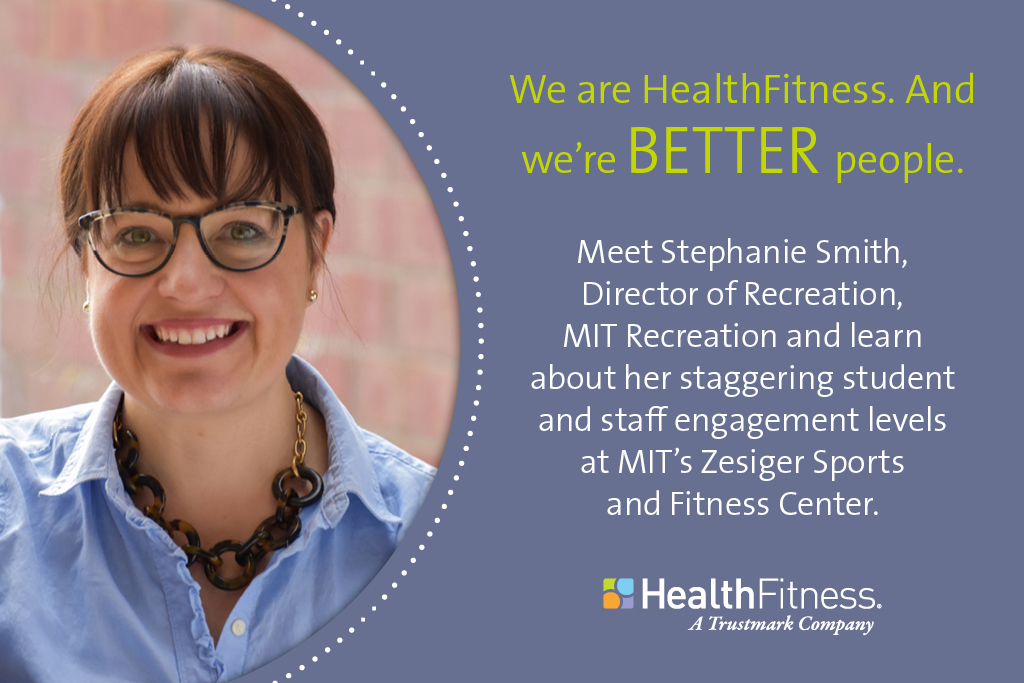 As Director of Recreation for the Zesiger Sports and Fitness Center (the "Z Center," as all refer to it), managed by HealthFitness, Smith oversees a staff of 232 employees, including 20-full time staff, operating in four interconnected facilities that comprise approximately 400,000 square feet.
The Z Center offers 230 weekly classes to a student population of 11,000, including 4,500 undergraduate and 6,500 graduate students, along with programming for student partners and families.
Offerings spanning recreation, fitness and aquatics include swim lessons, group exercise, physical education and wellness programming and 20 Wellness Your Way classes in which members of Smith's staff will visit students at their office, dorm or other community space to get them exercising, training and eating well, depending on their need.
Inside the Z Center's walls, according to the most recent card swipe data, its nearly 14,000 members have made nearly 1,000,000 annual visits.
Given MIT's staff of 12,000, Smith is always running into someone and ensures she has business cards with her at all times to better inform conversations with students and faculty alike. "Especially after I talk about all the outreach programs we're doing, I always will give out my card and say 'Please get in touch with me and we can talk about how we can bring our wellness programs to you.'"
Water, water everywhere
One might think an MIT student would be unfazed by a challenging test but, according to Smith, two of the most stressful days of the year are when undergraduates have to take, and pass, a swim test that is part of a physical education requirement.
MIT faculty envision swimming as a lifelong skill and a requirement in the university setting is one the last times to offer training to the masses. Smith recalls seeing hundreds of MIT freshmen on the pool deck on days when the swim test is offered, wearing swim suits and stressed looks on their faces.
Students can sign up for a beginner's class if they can't swim and Smith's staff coordinates the swim requirements. "MIT wants students to be well-rounded and possess certain life skills, but we also have to follow the protocols," Smith explains. "When it comes to administering the swim test, our instructors recognize there is no room for errors."
Smith is well aware of the high-stress, over-programmed academic environment students operate in, describing it as "like drinking from a water hose—there is so much coming at them from every angle."
Beyond ensuring there are programs and classes that address multiple dimensions of wellbeing, Smith praises MIT's collaborative approach in creating a healthier campus community that supports students' mental health and notes how administrators, from the president to the chancellor to the dean of student life, are actively involved.
More than 100 cross-campus partnerships exist that sponsor events ranging from open houses for students with disabilities to campus-wide fitness challenges to golf clinics for MIT retirees.
Smith and her staff also regularly organize large-scale campus-wide events including an always sold out indoor triathlon, cornhole, badminton, dodge ball, and a lawn Zumba class. Working in collaboration with colleagues at MIT's substance-free office, they create activities around high-risk weekends, such as right before class starts, when there's a greater potential for alcohol or drug abuse. One such example was a Dive-In Move Night, where students floated in the 50-meter pool on inner tubes while watching
Moana
and
Finding Dory
on the digital scoreboard.
An analytical, data-driven approach to campus health
Smith and her staff, recognizing the unique experiences and mindset of MIT's students, take a similarly analytical, data-driven approach to campus health. Two full-time marketing specialists conduct focus groups, surveys and other forms of research on various personas (new students, alumni, graduate students who attended MIT as an undergrad, for example). This insight is then incorporated into marketing plans designed to meet students where they are.
Science also informs program offerings, with instructors factoring neuroscience into a yoga class called, Neuroflow—featuring discussion on neuroanatomy, the senses, motor systems, proprioception, and anxiety, and why the first two hours after we move are so critical. Smith notes how much research supports the benefits of mindfulness and she and her staff regularly counsel students that, in addition to physical exercise, they need to take the appropriate amount of time for self-care and reflection.
Smith acknowledges the role she and her staff play as a knowledge resource. "Our staff are the first people students see when they enter the Z Center and we have to make sure they have the information they need to answer questions," she explains. "As long as we maintain relationships, listen and work collaboratively, we'll inevitably have the answers."
In addition to this results-oriented customer service philosophy, Smith and her staff follow standards of safety, approachability and knowledge. "They are built into our evaluations, conversations we are having and training," she says. "Having these values clearly articulated helps ensure all of us are successful."
Keeping her participant hat on
An Ohio native, Smith was hired as an assistant fitness director after graduating from The Ohio State University in 2006. She then transitioned to fitness director, overseeing member services and taking on more of a leadership role. Smith was then promoted to recreation director, starting work the Monday after Thanksgiving, shortly upon returning from maternity leave following the birth of her second child.
Smith places an emphasis on staying ahead of the curve. She and her staff attend an annual retreat to outline goals and then revisit progress quarterly. "We want good assessment plans in terms of satisfaction, operations and engagement," she says.
Smith also goes out of her way to, as she puts it, keep her participant hat on, attending a CrossFit program class each morning, followed by regular rounds of the extensive facility, checking in on staff and meeting with colleagues throughout the campus, nurturing relationships wherever she goes.
"I feel very connected to the MIT campus and surrounding community," says Smith. "I feel it's the right place for me."
Learn more
How can our people help your people be better?
Connect with us to learn more.