A Commitment to Giving Back
Trustmark is a company that cares. It's who we are, it's part of our DNA.
"As a mutual holding company, we go beyond the products and services we offer to support causes that strengthen the communities where we live and work," said Kevin Slawin, President and CEO. "By showing that Trustmark Cares by serving others, we live our mission every day."
The three pillars of Trustmark Cares are the Associate Volunteer Program, the Trustmark Foundation and our annual Trustmark Cares United Way Annual Giving Campaign.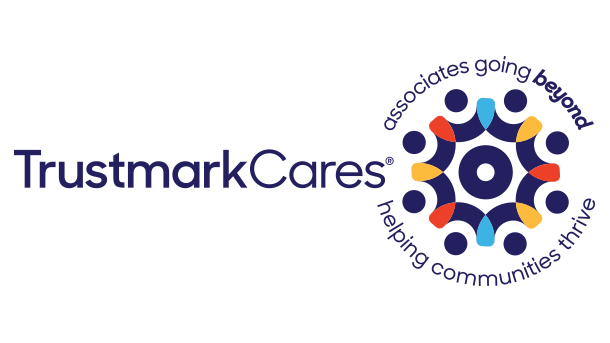 Helping Communities Thrive
Supporting the Community Service of Trustmark Associates
Each year, Trustmark associates volunteer to better the communities where they live and work. To further recognize this contribution and emphasize its importance, Trustmark now provides all full-time associates the opportunity to take four hours of paid time off for their volunteer efforts.

Associates select the volunteer organization based on their interests. The Trustmark Cares Associate Volunteer Team also shares volunteer options regularly near the headquarters in Lake Forest, Ill.

Additionally, Trustmark, through its private foundation, provides monetary grants to charitable organizations nominated by associates.

See below for examples of how Trustmark associates go beyond in their community service.
The Trustmark Foundation
The Trustmark Foundation, established in 1984, actively supports associate volunteerism through program donations and volunteer grants. In 2019, the Foundation distributed over $1.1 million in cash and gifts-in-kind. Foundation grants and programs directly support the United Way, community health, safety, education, and urban and cultural enrichment.  A portion of the funds is earmarked to support local charitable organizations that have a meaningful impact on the communities near the company's larger branch offices. Recipient organizations are selected by the associates in each branch office. Trustmark associates who volunteer for a qualified tax-exempt organization are encouraged to apply for a Trustmark Foundation Volunteer Grant to help support the organization with its ongoing needs.
Ralph Eckert Scholarship
A college education seems to cost more each year, and a Trustmark Foundation scholarship program tries to offset some of that burden. Up to 15 new $2,500 undergraduate scholarships are awarded each year to eligible children of Trustmark associates. The scholarships, aimed at deserving undergraduate students, assists with post-secondary education costs and recognizes and rewards student achievement. Scholarships are renewed automatically for eligible returning students. The scholarship program is named for retired Trustmark CEO Ralph Eckert.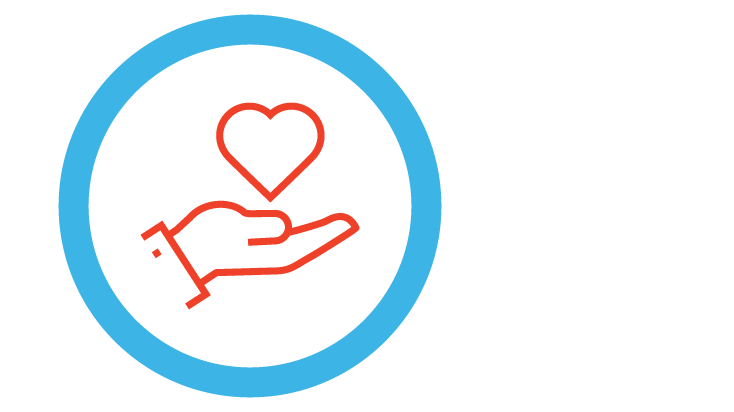 United Way Campaign

Each year, associated at Trustmark office throughout the company rally together for the Trustmark Cares United Way Campaign. It's a week of camaraderie, sense of purpose and fun as associates take part in challenges, games and the broader campaign to support United Way's essential work in our communities.

Associate gifts can be directed toward the local United Way or to any IRS-designed 501(c) (3) charitable organization. When associates give at the Care Share Level, the Trustmark Foundation matches 50 percent of the pledge amount to the charity of choice.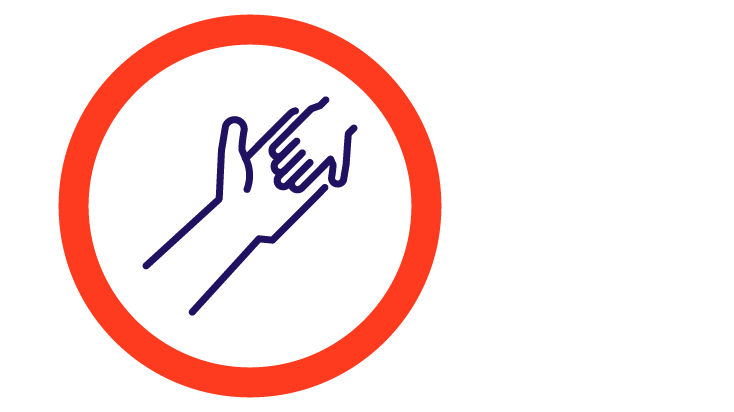 Associates Put Care into Action
"Sharing a Meaningful and Memorable Experience"
Kristen Woods, Michelle Shewmake, Stacey Benson and Jackie Capel started a volunteer project refinishing tables at Easterseals Arkansas as colleagues working in different departments for Trustmark Health Benefits. They ended the day with as friends.
"We are no longer just co-workers," Woods said. "We are wood sanders and stainers and volunteers who have shared a meaningful and memorable experience. We left as friends with new skills and full and grateful hearts."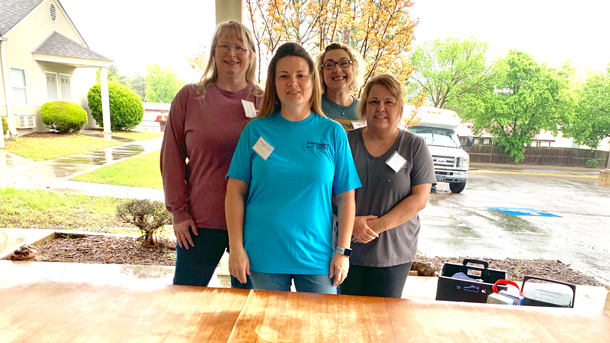 Detroit Cereal Drive
Cheer, Cheer, Cheerios – and other cereals! Associates in Trustmark Health Benefit's Detroit office delivered 174 boxes of cereal to the Children's Hospital of Michigan's annual cereal drive.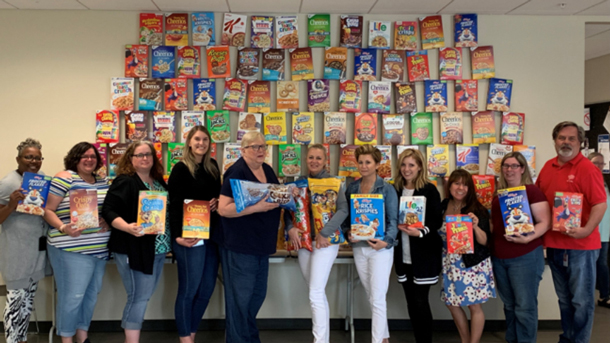 Lake Forest Backpack
Bring those backpacks for back to school! Trustmark associates in Lake Forest donated and then packed backpacks filled with school supplies for students in need.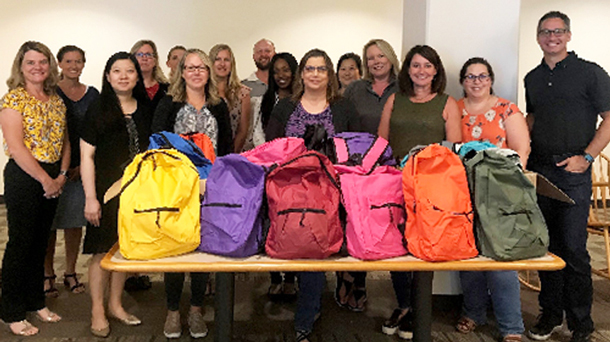 Mequon Silent Auction
Trustmark Voluntary Benefits associates in the Mequon (Wis.) enjoy a silent auction to raise money for Aurora Cancer Care. Associates created and auctioned custom-made gift baskets.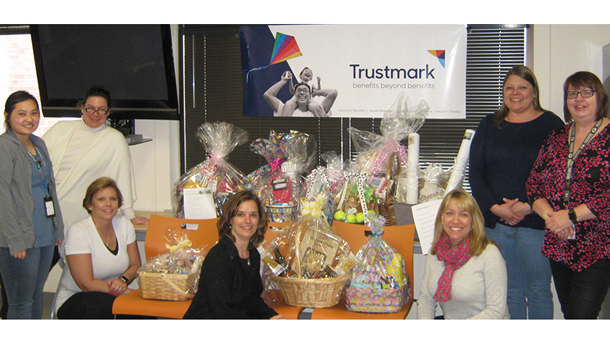 HealthFitness Associates/Pittsburgh
HealthFitness associates in Pittsburgh volunteered at 412 Food Rescue. The crew helped pack, organize and deliver thousands of KIND Bars to organizations throughout the city.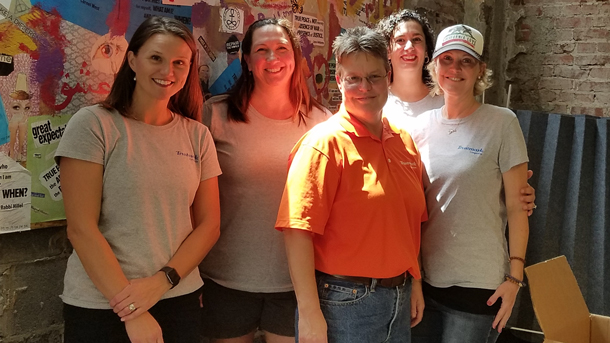 Warm Fuzzy Alert
A team of Trustmark Voluntary Benefits associates made warm blankets Tuesday at the Lincolnshire Marriott Resort's annual "Spirit to Serve" event. The blankets were donated to the Lurie Children's Hospital of Chicago.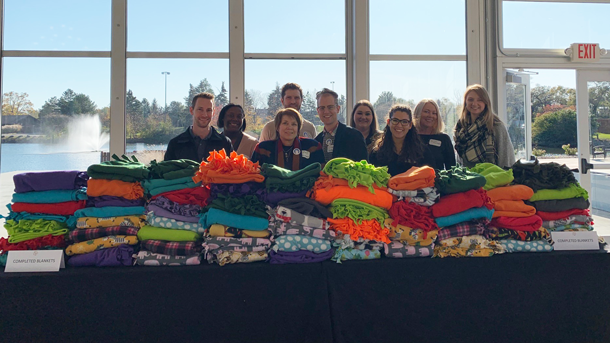 Lake Forest Day of Caring
Trustmark associates in Lake Forest go beyond the daily routine and participate in a Day of Caring to support the Great Lakes Adaptive Sports Association. The organization empowers youth, adults and injured military personnel to be healthy and active through sports and recreation participation.