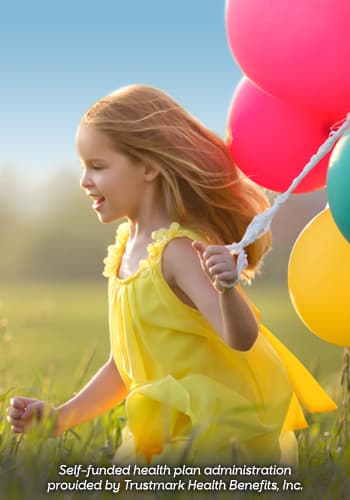 Health Benefits
Total benefits solution for mid-sized & large groups

Health Benefits
Total benefits solution for mid-sized & large groups
One-size-fits-all solutions aren't our style
We help our clients and brokers design custom self-funded health benefits plans that manage costs—without compromising benefits—by offering innovative solutions, flexibility, complete data transparency, and member-centered support.
Can a company be national and local? We think so. We have national-scale resources with a nimble regional structure that lets us serve our clients in ways large carriers and smaller administrators can't.
We're more than one of the nation's largest independent benefits administrators: We're a total benefits solution.
What We Do
Building a health benefits plan is a balancing act of managing cost and risk while also offering the kinds of benefits members need
and
want.
We rely on our decades of industry experience and proven, data-driven results to deliver optimal benefits solutions, customized to meet our clients' needs. These are the strengths Health Benefits brings to our clients and brokers.
Learn more about our products and solutions:
Health Benefits Value Story & Trend
Trustmark Health Benefits has a 3-year medical cost trend average that is 68% better than the rest of the industry*, translating to real savings for our clients.
Learn more about our trend.
Health Benefits: By the Numbers
We are one of the nation's largest independent administrators of self-funded benefits plans. We handle billions of dollars in benefits each year on behalf of our clients.
600+ clients and more than one million members
Nearly 50 years of industry experience
8+ years average client relationship
Why self-funding?
Employers want to provide the quality benefits their employees expect. But how do they accomplish this against a backdrop of increasing healthcare costs? Increasingly, the answer is self-funding.

In a self-funded health benefits plan, the employer—and not an insurance company—is responsible for the cost of providing benefits to employees.
The potential for increased cost savings and control are some of the advantages of self-funding. With a self-funded health benefits plan, employers get:
Increased cost containment and medical spending transparency
Greater control over health plan reserves
Flexibility to customize benefits offerings
Ownership of claims data
Greater opportunity to promote a healthier employee culture
Our Take On Customer Service
Choosing a benefits administrator is an important step for a business, one which we take seriously.
We understand that our customers have a lot of options, and we recognize that we have to work hard to keep our clients happy—or they won't be our clients for long.
But what does that look like? How do we help our customers?
Learn more about our approach to customer service >
Testimonials
What are our clients and brokers saying about us? Visit our
testimonials page
to read more.
"I love just knowing that I can get someone on the line."
Ashley Lent, Meritrust
"I love just knowing that I can get someone on the line."
Ashley Lent, Meritrust
Health Benefits Videos
Watch our videos to learn more about Trustmark and our solutions! Check out our
video library
for clients, brokers, and members.
*Based on internal Trustmark actuarial data Industry trend info:
PWC Cost Trend
Self-funded health plan administration provided by Trustmark Health Benefits, Inc.