HealthFitness
6 ways we impact wellbeing programs with our people-ready services
Published by HealthFitness on September 12th, 2019
What does it mean to be people-ready? Having HealthFitness staff on-site at your location gives wellness a face and a place.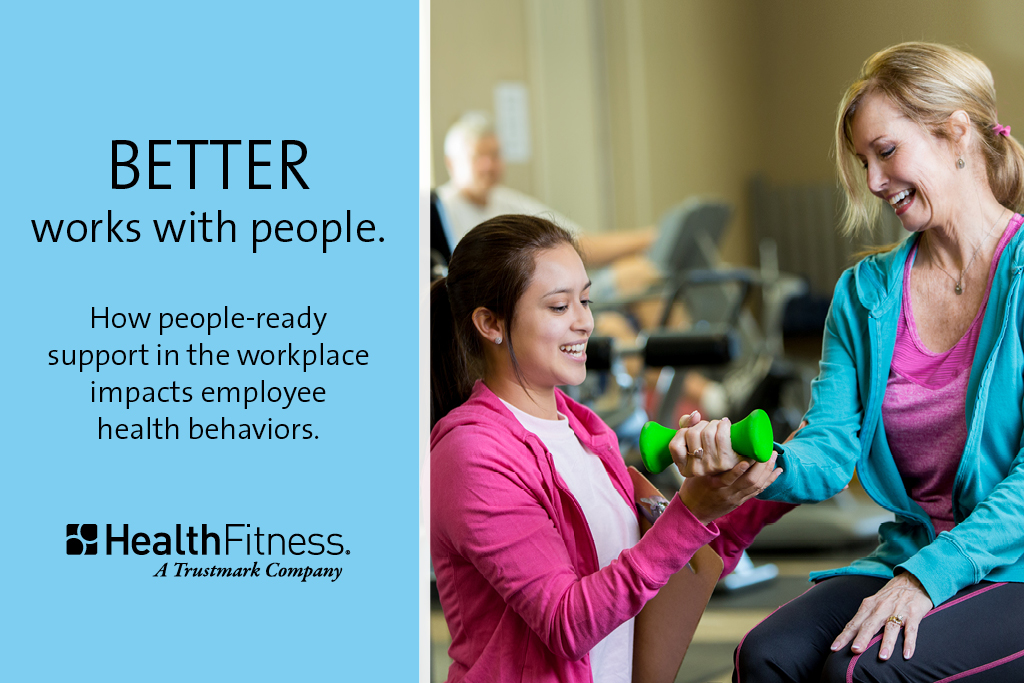 Being people-ready means our employees are in your space, embedded within the culture, being part of what moves your company and employees. Our passionate experts work behind the scenes or front-and-center to keep health and fitness top of mind.
Our Integrated Analytics team conducted research on our own programs and resources and found that our people-ready services—those with HealthFitness personnel on location helping to administer high-touch health management and fitness programs—impacts employee health behaviors.
Our research showed that our clients with HealthFitness employees on-site had
better healthy lifestyle outcomes
in areas like nutrition, physical activity, stress and tobacco use.
With our people in place, we:
Serve as extended support for your HR/benefits administration team.
Become a part of your culture.
Address the unique participation drivers in your population.
Identify and act on the opportunities in your social and physical environment to support healthy behaviors
Work with the leadership and policies stakeholder to provide for consistency in your wellness approach.
Show up to work like everyone else.
Reach employees where they are.
Here are six ways we impact wellbeing programs with our people-ready services:
1. Gate crashing:
At a large chemical manufacturing company, HealthFitness staff meets workers where they're at—via "gate crashing." Our on-site staff greets employees at the plant's gate during shift changes. During this face-to-face time, staff hands out program information, fruit and other incentives to promote current and upcoming wellness programs.
2. Boots on the ground:
Wearing steel-toed boots and protective gear to join manufacturing employees in the field to provide support and build rapport.
3. Early morning screening:
Working early hours (4:00 a.m.—to give manufacturing workers the opportunity to participate in a blood pressure screening without leaving the worksite)
4. CubeFit:
A program which combines our on-site wellness experts with technology by offering energy breaks employees can do at their desks, regardless of where these desks are located. Classes, usually between 10-15 minutes and led by HealthFitness program managers, are streamed live via Lync and Skype during each workday.
5. Bring wellness outside of the cubicle.
Our on-site team at a global manufacturing company uses web-based Skype sessions to reach employees in their living rooms, loading docks, and conference rooms. Employees—and their family members--can view health education sessions, take a yoga break, or do stretch band strength training at any time, thanks to the on-demand sessions.
6. Leverage lunch-and-learns
: Our dedicated on-site staff use the educational tools and resources from HealthFitness to conduct
Mind Your Health
seminars and/or 10 to 15 minute
What's What
meet-ups about health topics that cover wellbeing topics such as mindfulness, yoga and meditation, financial wellbeing and more.
Learn more
Contact us to learn more
about our people-ready wellbeing programs.