HealthFitness
We're Better People: Meet Torrey Landers
Published by HealthFitness on August 6th, 2019
Sports, specifically team sports, have played a huge role in the life of HealthFitness' Torrey Landers. He lettered in three sports in high school and pitched collegiately for Biola University in La Miranda, Calif. One of his great joys as a parent is coaching his children's teams.

So it should come as no surprise that he takes a team-oriented approach to his role as a Sr. Director, Client Strategy & Growth. Most specifically, that manifests in the way he selects teams to serve as HealthFitness' on-site fitness professionals at each client site.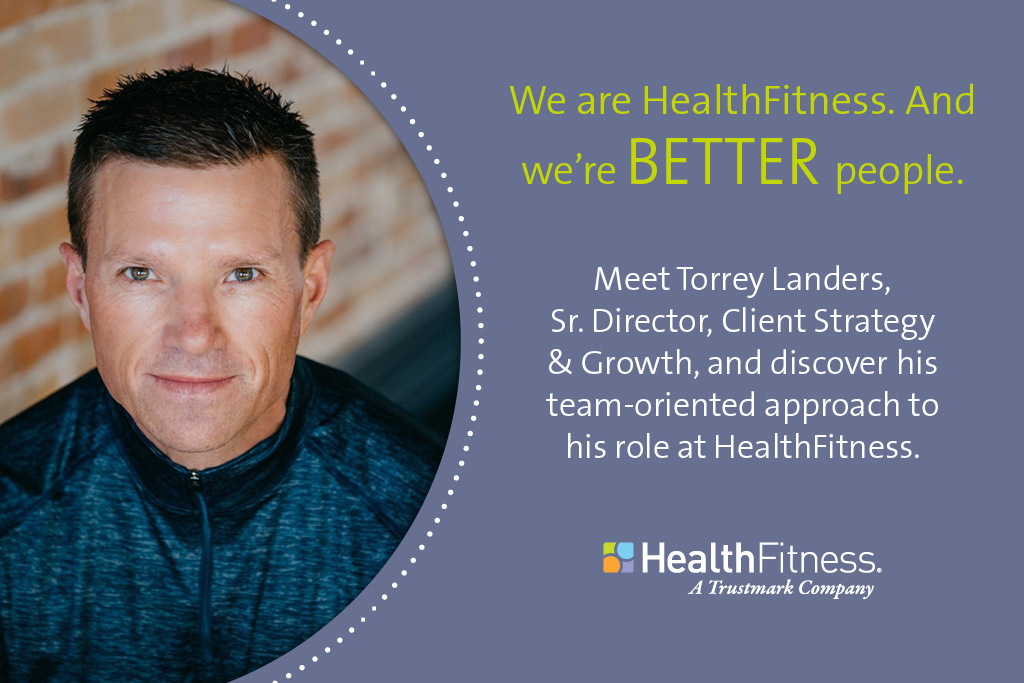 "He completely understands that success with a client is dependent on how well the team on-site is doing," said Jen Smith, VP, Client Strategy & Growth. "He believes in that; it's not just lip service."

Landers knows that finding the right on-site team for each client site is critical.

"One of HealthFitness' differentiators are our people," he said. "We're not new to this game. A lot of us have been on-site ourselves and know what that role looks and feels like and what character traits are important to be successful. We hone in on that by asking the right questions and then hiring the right people."

Of course, while the on-site team is important, it's just one piece of client success. Landers likens constructing a client-specific strategy to putting together a jigsaw puzzle.

"I try to ask questions at the start to help clients take a step back and think more broadly about their perspective and what they want to accomplish with their wellbeing program," he said. "We then help them answer those questions and provide the tools and resources to support them."

In sports, the players on a team must trust each other to be successful and Landers believes the same is true with clients.

"Establishing that trust is what's first and foremost," he said. "We need to develop that upfront to grow with the client as a true partner and build a long-lasting relationship."

Smith said Landers excels at this.

"He's laser-focused on client success and also very relatable," she said. "That's a big part of what makes him successful with clients."

Focus on Injury Prevention and Treatment
Many a sports season has unraveled due to a rash of injuries. And employers – particularly in our near full employment economy – are increasingly realizing that a dash of prevention is worth a pound of cure.

Take the automobile manufacturing space, for example. HealthFitness works closely with leading auto companies on injury prevention and treatment to create safer work environments. One example includes working on injury prevention and treatment for those associates literally on the front lines of auto manufacturing.

Landers and his team implement work conditioning programs to prepare associates for the repetitive motions and rigors of working on an assembly line. In addition to instituting a work conditioning program, HealthFitness injury prevention specialists also spend time on the assembly line assessing posture and body mechanics.

"We've had quite a few successes with our auto manufacturing clients," Landers said. "Recently, over the first six weeks of the program with a new client, we saw injury reductions with their new employee population."

Teaching Elon Musk to Catch a Fish
From 2003-2007 and 2009-2012, Landers was the community services division manager in Kwajalein, Republic of the Marshall Islands. This is where he worked and lived for seven unforgettable years on an island best known for its small active military personnel and the place where scientists test the accuracy of intercontinental ballistic missiles and space tracking.

It was where he helped Elon Musk, of Tesla and SpaceX fame, catch his first yellowfin tuna in the Marshalls. It was where he oversaw all community, wellness, recreation and aquatics for the military population, hundreds of contractors and the native people of the Marshall Islands.

Everyone rode bicycles on the island and there were no cars. Children, including his own, learned to ride at a very young age.

"It's a pretty cool thing to see your 2-year-old riding a bike with no training wheels," he said.

It was a once in a lifetime opportunity for Landers, his wife and their two young children. Landers was particularly struck by the joy with which the islanders – who had very little material wealth – lived day-to-day.

"It was a great reminder of the importance of gratitude and keeping life simple," he said.

A Coaching Approach
After returning from the island, Landers found his calling at HealthFitness where he has worked ever since.

What keeps him driven and excited to work each day is the chance to give his team and clients their best chance for success.

"It's all about the relationships with clients and our team," he said. "I have a coaching approach by nature, and I take great satisfaction when I put our team and clients in position to succeed."

Learn more
How can our people help your people be better? Connect with us to learn more.